Tịnh Trúc Gia – TTG
The Peaceful Bamboo Family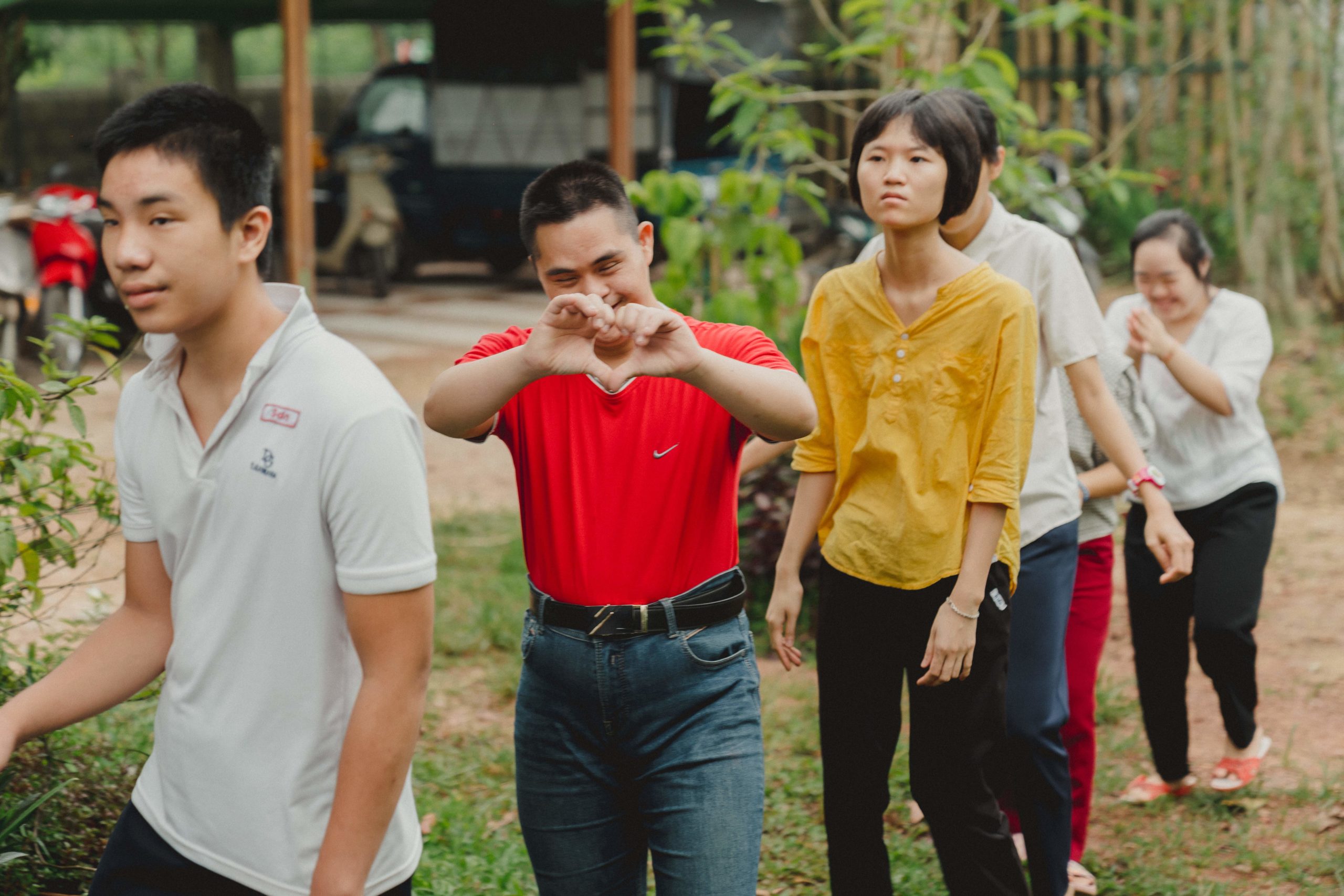 The Peaceful Bamboo family is a vocational training centre and living community for young adults with disabilities, located in Hue, Vietnam.
In 2009, Eurasia established the Peaceful Bamboo Family (Tinh Truc Gia) in Hue, Vietnam—a vocational training center and living community for young adults with disabilities. TTG embraces human values, providing a nurturing environment for the well-being of its members. The community embodies an ecological lifestyle, emphasizing biodynamic agriculture and serving as a practical training center for social therapy and biodynamic gardening. Central to TTG's mission is the integration of individuals with disabilities through community life.
The center provides vocational training to each resident, equipping them with the skills to integrate into professional life and foster their autonomy. Various workshops offer vocational training opportunities and support income-generating activities.
TTG was inaugurated in early 2009 to address the challenge of finding suitable vocational training centers and living arrangements for Eurasia's special school graduates. The community is a therapeutic Camphill community deeply rooted in the local culture. Located in a rural district, just a 10-minute scooter ride from Hue city center, Tinh Truc Gia encompasses boarding facilities, workshops, classrooms, and a large biodynamic garden.
Currently, TTG is home to 37 adults and approximately 10 adolescents who live, work, and learn within the community. Additionally, there is an inclusive Waldorf kindergarten that welcomes 16 children. Around 15-20 well trained co-workers contribute to the center's operations. The vocational training workshops produce various products, including delicious jams, ice cream, fruit juices, dried fruits, and crafts such as embroidery and lacquer ware painting. The proceeds from these sales help sustain the center.
The center offers a vibrant social and cultural environment, attracting an increasing number of visitors and volunteers each year. In 2012, Tinh Truc Gia became a part of the international Camphill network.
TTG thrives as a warm and vibrant community committed to caring for oneself, others, and nature. Local school classes regularly visit to learn about the community's lifestyle, giving the young residents an opportunity to share their skills, knowledge, and way of living together. The community also hosts training programs organized by Eurasia Learning Institute.
TTG currently accommodates 37 young adults, 10 teenagers in adolescent class, and 16 children in the integrated kindergarten.
TTG offers a rich social and cultural life and welcomes visitors and volunteers from all over the world every year.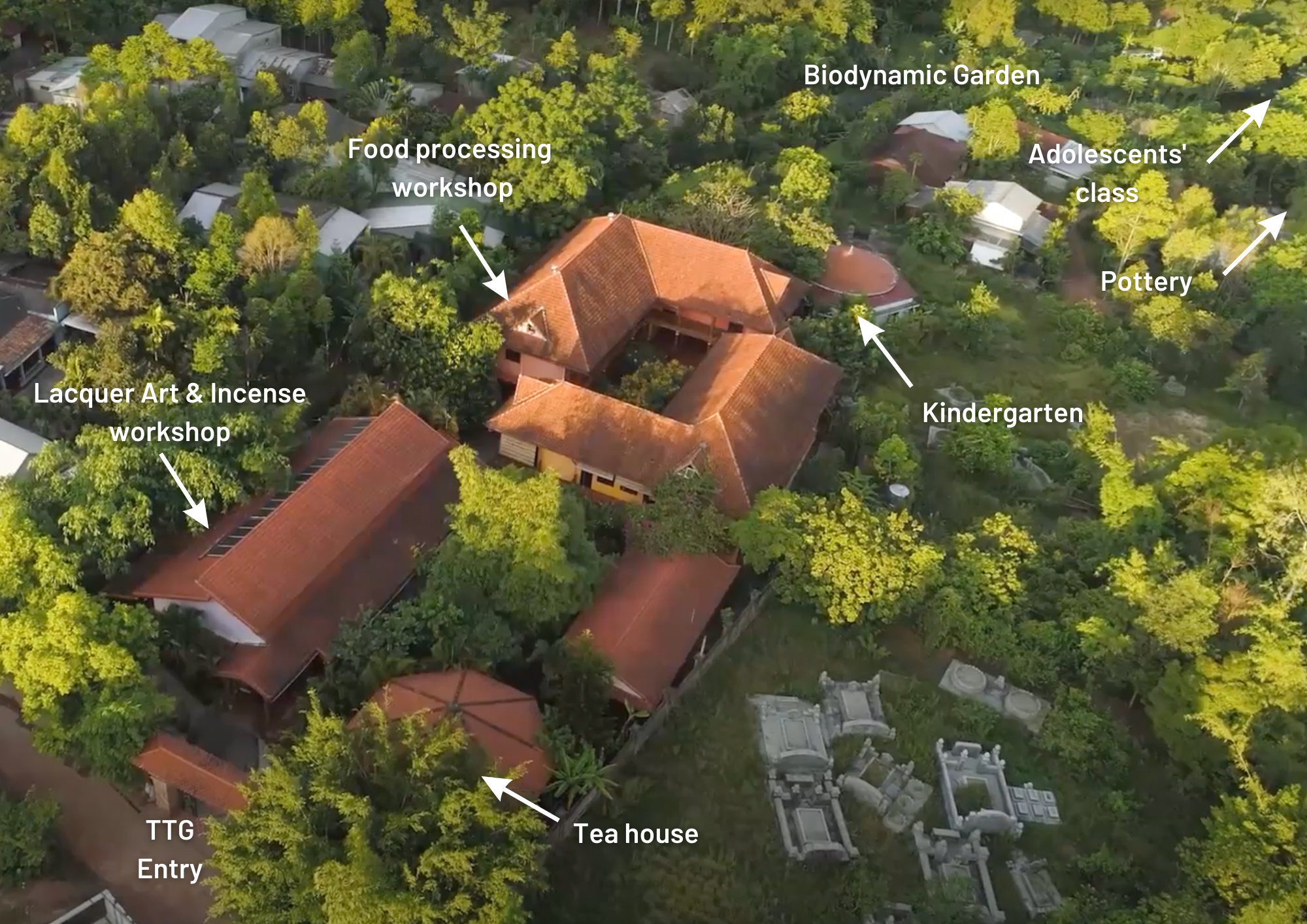 A vocational training center and living community for youngsters living with disabilities.

Home to 30+ youngsters living with mental disabilities, who live on the premises

A school and workplace for 15 day students.

A Kindergarten that welcomes 16 children, some with disabilities and others presenting normal development.    

An early detection and intervention unit and resource center for parents and professionals in the field of special education.    

A practical training center for special education and social therapy as well as organic biodynamic agriculture.

The first community in Vietnam based on the values and principles of the Camphill Movement

A pioneer in implementing Gross National Happiness, the alternative development paradigm of Bhutan that is fully aligned with the Sustainable Development

Goals of the UN, at community level.
TTG now welcomes schools and classes to spend one day in TTG, reconnecting with nature and learning from our youngsters. To learn more about visiting TTG see below
Visit for
 a day
You can always come to visit TTG during the daytime, drink tea in our lovely teahouse. If you would like to receive an introduction or if you would like someone to show you around please do inform us at least 1 week before to make sure someone has time to welcome you. If it is an improvised visit we might not have the time to welcome you properly but you can still enjoy our teahouse and everyone's smile.
Visit for
 a few days
If you're a friend, family member, or introduced by a co-worker at TTG, you're welcome to request a short visit. Your stay is subject to availability, so we'll confirm based on our schedule and space. Guests can opt for accommodations in local homestays nearby.
In order to schedule your visit, please contact The Peaceful Bamboo Family directors at : tuphampbf@gmail.com